Greek-born french beauty and well-known actress Ariane Labed stars in the new series of images of one of my favorite jewelry designers, Yannis Sergakis. The shooting took place in Athens a couple of months ago and taking care of the styling of the campaign was such an amazing thing for me to do. Thanks to a fantastic team the photo shoot looks great, resembling scenes of an atmospheric film and Ariane shines in all her earthy beauty.
Below you can find some backstage images (remember part I ?) plus a mini interview of Ariane Labed exclusively for Youstrikemyfancy.
Many thanks to all the crew and especially George Anthoulakis and Yannis Sergakis.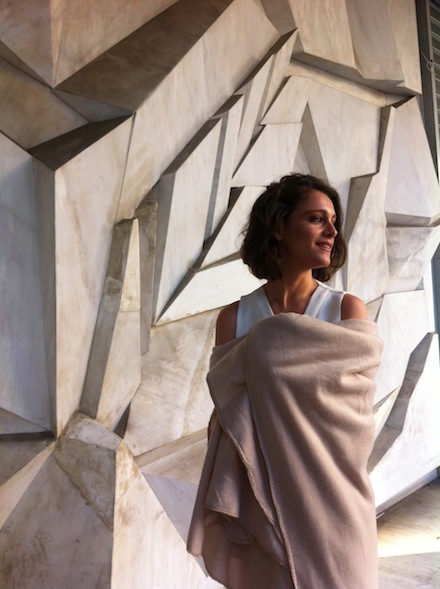 What intrigued you in Yannis Sergakis' proposition to be the face of his new collection? What made you say yes?

"Τhe truth is that I wasn't that excited in the beginning, since I don't like being exposed as "Ariane", without having a role to play. However, I loved Yannis' jewelry collection. And I also loved the idea of being part of a promising greek brand. I truly believe that there are numerous talented people in Greece and I want to support them as much as I can."

Talk to us a bit about the photoshoot, what dis tou enjoy the most?

"The whole team was great. We moved around Athens in several locations, and although I was in town for just a couple of days, I had the chance to see so many different things and the city that I absolutely love."
You live in London but you travel all over Europe quite often. What is the feedback that you get regarding greek artists? Are greek makers known abroad?

"Most people think I'm Greek so they often come and talk to me about Greece and I absolutely love it! French are very fond of Greece -although I cannot say the same thing for others. People talk to me about the movies that I've done here (Attenberg, Alps and the Capsule) and about my team 'Vasistas'. There's a huge interest about what goes on artistically in Greece."

You have received many Best Actress awards up to now (Best Actress – 67th Venice International Film Festival, Best Actress – Angers European First Film Festival, Best Actress – Hellenic Film Academy 2011). What makes an actress "the best"?


"I have no idea. There's no such thing. An award is a reward for a job you've done. And, in addition, it is completely subjective."

What is your relationship with fashion? Is there any meeting point between fashion and your work?


"I don't have much to do with fashion. I like clothes and certain designers (like my good friend Marios Schwab), but fashion seems a crazy world to me. Costumes always help me sink into a character. They always change your walk, the way you stand and sit. It is a very creative process."